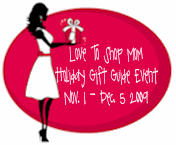 Announcing

the 2nd

Holiday
I have teamed up with a bunch of other Moms that have amazing products and/or services and Love To Shop Mom Blog has put together this giveaway for us. You have to follow her directions and put your comments on her sight to be entered into this giveaway but WOW, you will have a chance at 44 different items, one of them being mine

(smile).

Just click the link to get to the blog. Good luck at all the wonderful prizes.
There are a total of 44 Giveaway Items, which means there will be a total of 44 DIFFERENT WINNERS! All the Giveaway Items will be listed in One Giveaway, all you have to do is comment in one place! There is no limit to how many entries you can have, the more times you enter the better chance you will have at winning an item! Each item that is featured in the Giveaway will have a review written, that review will have a trivia question, the trivia questions will be extra entries for the Giveaway. The Holiday Gift Guide Event Giveaway is open to ALL USA and CANADIAN Residents who are at least 18 years old!

The GIVEAWAY ITEMS ARE AS FOLLOWS!!!

Week 1 Gifts for Children

$15 Gift Certificate to Piggy Paint

Wat-Aah Gift Basket

Mabel's Labels Personalized Stationary Kit for Kids

Smart Knit Kids Socks 3 pair to the winner!

$50 Gift Certificate from No Slip Hair Clippy

Onsie from Trendy Time Tots

Baby Dipper Bowl

Tutu with Matching Headband from Posh Little Tutu's

Sweater from Gumdrop Lane

Royal English Breakfast Tea from Village Tea Co.

Week 2 Gifts for Moms

Set of Earrings from Charitable Creations

Carry You Stroller Accessory

Nursing Cover from Trendy Time Tots

6 Different Winners of Gloveables

Sassy Green Tea with Acai from Village Tea Co.

2 Different Winner of an Elizabeth Grant Cosmetics Lip Product

Trendy Treasures Boutique $20 Gift Certificate

Flirt Buttons Gift Bag

Mabel's Labels Mama Cards

Personalized Stationary from Bitsy Creations

Sharmooz Pillow Case

A $15 Starbucks Gift Certificate

A One Year Subscription to Relish.com

Week 3 Gifts for Couples

Eden Fantasy's Candy Cane Lingerie Set

Duo Oolong Ginger Orange and Ginseng Tea from Village Tea Co.

Week 4 Gifts for Families

Gentle Organic Lemon Ginger Green Tea from Village Tea Co.

M&M Monopoly Board Game

Operation Board Game

Are You Smarter Than a 5Th Grader Board Game

25 Holiday Gift Cards from 365 Cards

Fairytale Brownies Gift Box

Vintage Confections Peppermint Marshmallows

Week 5 Stocking Stuffers

Classic Organic White Tea from Village Tea Co.

$20 Gift Certificate to Upper Case Living

All Things Posh and Pretty Bling Ring

Any Child or Adult Necklace, Bracelet, or Anklet from Hazelaid

$25 Gift Certificate from Eco Stores USA

Your Choice of Product from Habit Wise